Welcome to Dollface! We're a full service eye enhancement studio located in Oak Forest, Houston TX. Speciali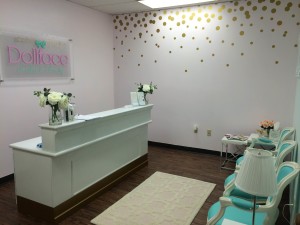 zing in both Classic and Volume Eyelash Extensions, Lash Lifts and Tinting. Located off of 610 and E. TC Jester in The Preserve. A wooded tranquil facility that's both convenient and discreet. Clients all over Houston are falling in love with eyelash extensions, not only because of how they look but how convenient they are. Whether you have a special occasion, a wedding or you're just going for an everyday look, Dollface will give you thicker, longer, eye opening lashes. We look forward to giving you the best experience possible!
---
Dollface Reviews
I love love this place, they have good hours so you can make an appointment right after work. I have been to a few eyelash extension spots but I found the one! I get so many compliments on my eyelashes. I recently decided to try the eyebrow tint, best decision ever! Between my eyelash extensions and eyebrow tint.. who needs make up! I love this place! Definitely recommend it! – Denise O.
Love my lashes!! I was skeptical about extensions for a long time but after reading the reviews for Dollface I decided to take the plunge. I believe the phrase should be "once you go falsies you never go back" . I'm obsessed! Charlie is great and I really wouldn't trust anyone else that close to my eyes. They look natural and I've gotten so many compliments. – Anna K.
Loved my experience here. I felt very comfortable and relaxed. I got a lash lift for the first time and was a little afraid of it burning or being uncomfortable. I've gotten lash extensions before at a different place and always have the burning sensation. I felt no discomfort at all. It was great. Charles explained everything and was very sweet! Would definitely recommend! – Brenda A.
---